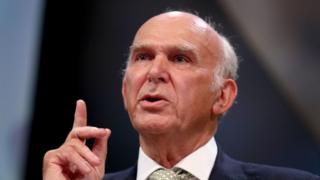 Image copyright PA
Sir Vince Cable has announced he will step down as Liberal Democrat leader after May's English local elections.
Sir Vince said he wanted to pave the way for a "new generation".
He became party leader without a contest after Tim Farron's resignation in 2017 – but the party has struggled to make an impact in the polls since.
The former business secretary said in September he would stand down as party leader "once Brexit is resolved or stopped".
But in an interview with the Daily Mail, he said: "It now looks as if it will be a protracted process, and may never happen."
Sir Vince was a leading figure in the Lib Dem/Conservative coalition government before being ejected as an MP in the 2015 general election, when his party lost most of their 57 MPs.
He returned to Parliament in 2017 as MP for Twickenham and took on the job of leading the party's 12 MPs, which recently went down to 11 when one of them quit to vote for Theresa May's Brexit deal.
Under Sir Vince's leadership, the Lib Dems led calls for another EU referendum as a means of stopping Brexit – and joined forces with pro-referendum campaigners in other parties in the People's Vote campaign.
But despite some gains in local elections and a claimed increase in membership, the party struggled to get out of single figures in the opinion polls.
In an interview with the BBC's Newsnight, he conceded that the Independent Group of MPs, who have broken away from Labour and the Conservatives as a new "centrist" force, had taken media attention away from his party.
But he added: "We have made a lot of steady progress after two very difficult general elections."
And he said he welcomed the formation of the Independent group, which he said had the potential to become a major political movement.
Image caption Deputy leader Jo Swinson will be seen as a frontrunner to replace him
Last autumn, he announced plans to transform the party's fortunes by opening up the leadership to non-party members.
Anti-Brexit campaigner Gina Miller addressed the Lib Dem annual conference – earning a better reception than many of its MPs – but she declined to join its ranks.
In a statement, Sir Vince said: "I indicated last year that once the Brexit story had moved on, and we had fought this year's crucial local elections in 9,000 seats across England, it would be ti