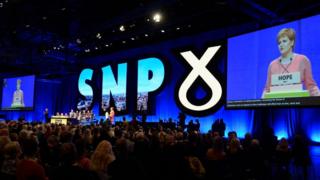 Image copyright Getty Images
SNP members are to gather in Aberdeen for their Autumn conference, which opens on Sunday afternoon. At a tumultuous moment in UK politics, what are the biggest questions facing Scotland's dominant political party?
Imminent election
As with the other conferences this season, this gathering is taking place under the shadow of an election. The date has not yet been named, but don't doubt for a second that the parties are in campaign mode.
This might sound very basic, but the big electoral question the SNP is facing is how many people will vote for them.
Rounding up a bit, SNP candidates won half a million votes in 2010, then 1.5 million in 2015, then a million in 2017.
Based on those fairly wild fluctuations, what can party chiefs realistically expect their vote to do this time around? Should it be going up, down, or staying the same?
General election results in Scotland
by number of votes
Source: Electoral Commission