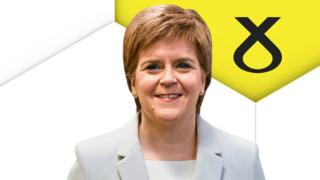 The SNP has launched its 2019 election manifesto, with the slogan "Stronger for Scotland". It sets out the policies the party aims to introduce.
The full document runs to 52 pages. But what are the promises that will grab the public's attention, and potentially win over voters on polling day, 12 December?
1. Stop Brexit
Keep Scotland in the EU by supporting a second Brexit referendum with Remain on the ballot paper.
About a third of Scotland's million Leave voters at the Brexit referendum in 2016 were also supporters of Scottish independence. However, Nicola Sturgeon has come down firmly in favour of the UK remaining within the EU, or re-joining it if Scotland becomes independent.
At Westminster, the party's MPs have backed moves towards another Brexit referendum, so long as Remain is an option on the ballot paper. That continues to be the position in the current election's manifesto. If it comes to a choice for MPs between revoking Brexit and "no deal" with the European Union, the SNP says it would back revocation.
In addition, Brexit is seen by the SNP as such a big change to the UK constitution that it warrants another vote on Scottish independence, or indyref2 as it is known. Even if Brexit is thrown into reverse the SNP will still use any leverage it has after this election to secure indyref2, arguing that the Brexit "chaos" will continue for years.
2. Hold indyref2 in 2020
Ask the UK government to give the Scottish Parliament the power to hold a referendum next year on independence.
Precisely nobody will be surprised to see support for an independence referendum in the SNP manifesto. To be clear, the party already believes it has several mandates for a new poll, but hopes that a big win on 12 December will really cement its case.
This is because the big question about indyref2 is how it comes about. Nicola Sturgeon wants an agreement with the UK government before holding a vote, but has seen the Conservatives rule this out completely and Labour say it wouldn't be on the table in the "early years" of a new government.
If Ms Sturgeon is to get a referendum on her 2020 timetable, something needs to give – and she wants the result of this election to send a big message to both potential prime ministers about "Scotland's future being in Scotland's hands".
3. Increase health spending
Demand that the UK government raise health spending in the UK to match health spending in Scotland.
Health is a devolved issue meaning spending and policy are decisions for the Scottish government.