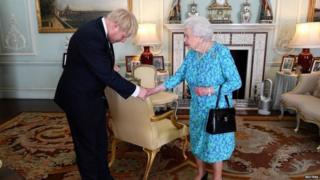 Image copyright Reuters
The Queen is to set out the Conservative government's agenda for the year ahead following their decisive election win last week.
Legislation to take the UK out of the EU on 31 January will be among more than 20 bills announced during Thursday's State Opening of Parliament.
Other measures include guarantees on extra health service funding and longer sentences for violent criminals.
PM Boris Johnson says he wants to unite the UK and "level up" opportunity.
Downing Street said an ambitious programme of "far-reaching" domestic reforms would be put before MPs, with education and infrastructure among other priorities.
Thursday's State Opening will see less pageantry than usual, as was the case the last time a snap election was held in 2017.
The Queen will travel by car from Buckingham Palace to Parliament, rather than by horse-drawn carriage.
She and the Prince of Wales, who has accompanied her since the Duke of Edinburgh retired from royal duties in 2017, will not wear ceremonial dress and there will be a reduced procession.
Image copyright Reuters Image caption The Commons reassembled on Tuesday, with the PM saying he would "get Brexit done"
During his election campaign, Mr Johnson promised a welter of new legislation within the first 100 days if the Tories won. Much of this will be carried over from the last Queen's Speech, which took place on 14 October.
Little or no progress was made on any of its contents before MPs agreed to an early election.
The prime minister now has a Commons majority of 80 – the largest enjoyed by a Conservative leader since Margaret Thatcher in 1987.
When the pageantry is over, Parliament will be asked to immediately begin ratifying the agreement the PM negotiated in October.
The first debate and vote on an updated EU Withdrawal Agreement Bill is expected on Friday before MPs leave for the Christmas recess.
The PM's increased parliamentary authority and command of his party means it is likely to pass without major changes in the New Year in time to meet the 31 January deadline.
No 10 signalled earlier this week that it would rule out any extension to the 11-month post-Brexit transition period, in which the UK will continue to follow EU rules but without any representation in EU institutions.
Ministers have said they are confident of concluding a new trade deal by 31 December 2020 although many EU officials are sceptical this can be done in such a short amount of time.
In another move welcomed by Tory MPs,