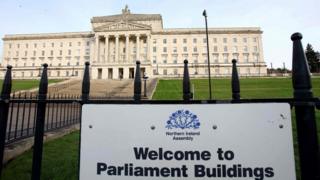 Image copyright Getty Images
It's official – Stormont is back. But after three years on ice, there's plenty of work to be done.
For ministers, freshly appointed to the restored Northern Ireland Executive, there will be a number of urgent issues to tackle.
Some of them have experience of leading a demanding department, while others are new to the executive table.
Either way, all have plenty to do in the coming weeks and months.
With the executive set to get back to work this week, BBC News NI looks at the big problems facing each minister in their early days in the job.
Finance
by John Campbell, BBC News NI economics and business editor
Image copyright PA Image caption Conor Murphy served as an executive minister for four years until 2011
The minister: Conor Murphy
Who he is: Sinn Féin MLA who served as minister for regional development (now minister for infrastructure) from 2007 to 2011
Issues in his in-tray: Conor Murphy will have an immediate decision to make on business rates – a property tax paid by businesses.
He will have to set the regional rate, which alongside decisions made by local councils, will determine how much businesses pay in the next financial year.
He will also have to deal with the aftermath of a rates revaluation exercise which means that many hotels and pubs are facing a steep rise in rates bills.
He can expect heavy lobbying from that sector to introduce something like a transitional arrangement.
Even before devolution was suspended, Stormont lurched from budget to budget with little long term planning.
The new deal promises multi-year budgeting and it will be Mr Murphy's job to lead that process.
Education
by Robbie Meredith, BBC News NI education correspondent
Image copyright PA Image caption Peter Weir previously served as education minister from 2016 until Stormont's collapse
The minister: Peter Weir
Who he is: DUP MLA who served as education minister from May 2016 until January 2017
Issues in his in-tray: Peter Weir will be familiar with many of the problems facing education as he had a nine-month spell as minister before the executive collapsed in 2017.
He will want to secure more money to settle the long-running teachers' pay dispute and industrial action, and to help hundreds of financially-squeezed schools.
He'll also have to oversee promised reforms of the way schools are funded, of support for children with special educational needs and those from disadvantaged backgrounds, and of the system itself.
The deal said the way education is run at present – with a range of sectors and school types –