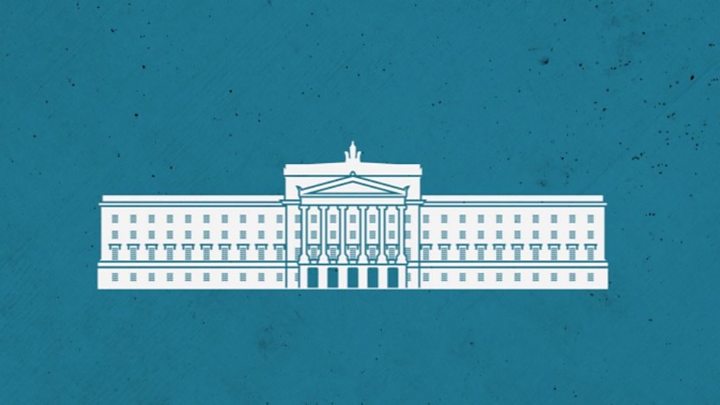 Media playback is unsupported on your device
Media captionHow does Stormont work?
Last week the Northern Ireland Assembly and executive were restored after three years of political deadlock.
Since then, political parties and officials have been working to get the institutions operating as they did before devolution collapsed.
That means appointing new ministers and establishing committees, as well as electing a new speaker.
BBC News NI has a guide to who's who at Stormont, and what their roles involve.
First Minister: Arlene Foster
Image copyright Reuters
She's been leader of the DUP for more than four years, but was first minister for just 12 months before Stormont collapsed due to a row over her party's handling of a green energy scandal.
This time Mrs Foster faces a new set of challenges, as she heads the executive alongside Michelle O'Neill, who replaces the late Martin McGuinness as deputy first minister.
The pair have previously been political opponents but were pictured smiling together as they visited a hospital on Wednesday.
However, will the laughter last as they start to tackle tough issues like health, education and Brexit?
Deputy First Minister: Michelle O'Neill
Image copyright Brian Lawless
She is no stranger to the assembly, having done stints as both agriculture and health minister in executives gone by.
But now Ms O'Neill has to show she can lead Sinn Féin in the assembly and share power with the DUP.
Along with Mrs Foster, the Sinn Féin vice-president will spend much of her time based at the Executive Office in Stormont Castle.
She is known for being the fastest-talking assembly member, so staff in the Hansard team will have to type faster than normal when Ms O'Neill appears at deputy first minister's questions.
Speaker: Alex Maskey
His experience as an amateur boxer will come in handy as he attempts to control events in the assembly chamber.
The veteran Sinn Féin politician is leaving the blue benches and will instead oversee proceedings, as well as represent the assembly when VIPs visit.
Mr Maskey's election as speaker wasn't without controversy though: the SDLP claimed there had been cross-party understanding to support its candidate but the DUP agreed to vote for Sinn Féin.
He has already cracked the whip, accusing an SDLP MLA of "insulting" him during a debate in the chamber and has warned the parties he will sanction anyone thought to breach conduct.
Health Minister: Robin Swann
Image copyright Department of Health
The former Ulster Unionist leader has stated that he didn't expect his party would be taking on the health brief in this new executive.