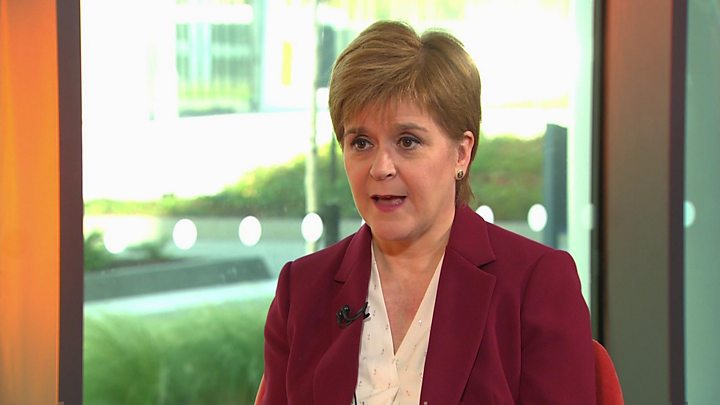 Media playback is unsupported on your device
Media captionNicola Sturgeon said she favoured replacing Boris Johnson's Tory government with a "progressive-style alliance"
Nicola Sturgeon has told Jeremy Corbyn not to "bother picking up the phone" to ask the SNP to put him in government unless he backs an independence vote.
The Scottish first minister said she was in favour of removing Boris Johnson from office and holding an election.
But she said her backing for a future "progressive alliance" government relied on a deal to hold a referendum.
Ms Sturgeon also said she would seek UK government consent this year to hold a new independence vote.
'Right to choose'
Mr Corbyn has said he does not think a new independence poll is "a good idea", but has not ruled out allowing one.
Ms Sturgeon wants to hold a new vote in the second half of 2020, but has yet to ask UK ministers for the required "section 30" request to allow it.
She said it was not yet clear who the prime minister would be at that point.
She told the BBC's Andrew Marr programme that she would be willing to oust the Conservatives in favour of a "progressive-type alliance", but warned Mr Corbyn to not "even bother picking up the phone to me" unless he accepted "Scotland's right to choose our own future".
Ms Sturgeon's comments come as the SNP gathers in Aberdeen for its autumn conference, and at a pivotal moment in UK politics and the Brexit process.
Mr Johnson has repeatedly challenged other parties to support a snap general election, but opposition leaders want to rule out a no-deal Brexit first – and are divided on whether a fresh EU referendum should come before an election.
The SNP leader told Andrew Marr she was "ruling nothing out" in the coming weeks, but said an election would be the most realistic outcome due to the difficulty of leaving an interim government in place throughout a referendum campaign.
Image copyright AFP/Getty Images Image caption Mr Corbyn has said he would not allow an independence referendum in the "formative years" of a Labour government
Should an election not produce a clear winner, Ms Sturgeon said the SNP "will not put the Tories in office and are not in favour of coalitions".
However, she warned that votes from her MPs – currently the third-largest group at Westminster – would be contingent on the new prime minister giving the green light to an independence referendum.
She said: "We would favour a progressive-type alliance, but I would say this to Jeremy Corbyn or any Westminster leader who's looking to the SNP for support –