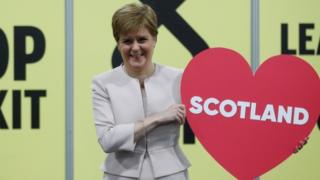 Image copyright Reuters Image caption Nicola Sturgeon will address SNP members in Aberdeen later on Tuesday
An independent Scotland could act as a "bridge between the EU and the UK" and be a "magnet for global investment", Nicola Sturgeon is to tell SNP members.
The first minister is to close her party's conference in Aberdeen with a speech on Brexit and independence.
She will say that being inside the EU's single market and close to the UK would give Scotland a "unique advantage".
And she is set to unveil the first SNP policy pledge of the 2021 election campaign, to scrap social care charges.
She said she was aiming to be re-elected as first minister in 2021, and said charges for people who are cared for in their own homes would be phased out across the term of that parliament if she was.
The conference in Aberdeen has focused on the core of the party's platform for the coming UK general election – opposition to Brexit and support for a new referendum on independence.
Ms Sturgeon will tell party members that "we must reject a post-Brexit race to the bottom and embrace instead a race to join the top tier of independent nations".
And she will say that "as an independent European country", Scotland would have "a unique advantage".
She is expected to say: "We will be in the EU single market and also the closest neighbour to our friends in the rest of the UK – a bridge between the EU and the UK, making our country a magnet for global investment.
"That's what I call the best of both worlds."
Image copyright Getty Images Image caption The SNP have been stressing their pro-EU stance at the conference in Aberdeen
Earlier in the conference, Brexit Secretary Mike Russell told delegates that the Scottish government was "intensely examining" EU accession rules with a view to reapplying for membership after winning independence.
Ms Sturgeon has been questioned several times about whether Scotland being inside the EU's single market, while the remaining UK is not, would require a hard border between the two.
She told BBC Breakfast on Monday that "it would be my intention that that does not happen".
She said: "Before Scotland takes that decision on independence we would set out how we intend to ensure that trade flows between Scotland the rest of the UK and vice versa would continue, because it's important that they do.
"Obviously the detail of that depends on the final relationship between the UK and the EU, we don't know what that's going to be yet.