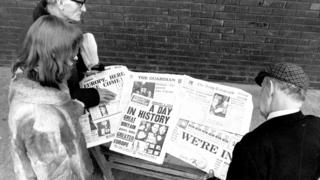 Image copyright Getty Images
A light show in Downing Street and a new 50p coin will be among official events marking Brexit on Friday.
Despite some accusations of triumphalism, the tone marks a more muted contrast with British entry into the then European Economic Community (EEC) in 1973.
A new 50p was also minted back then – featuring nine interlocking hands to reflect the newly-expanded membership of the club.
But Conservative Prime Minister Edward Heath went further, and organised 11 days of government-subsidised cultural events.
Beginning three days after entry on 1 January, the "Fanfare for Europe" featured hundreds of musical, artistic, and sporting events.
As with Brexit in 2020, the occasion was not immune from political wrangling.
Mr Heath, a Europhile who had long dreamed of witnessing British entry into the EEC, known as the Common Market, took an active role in certain events.
He attended a special gala at the Royal Opera House, and personally presented prizes to British and EEC children who won free holidays in an essay competition.
He also brought down the starting flag on a rally of dozens of vintage cars from London to Brussels.
The decision to put himself at the centre of events did not come without risks, however, as some events saw protests from anti-market protestors.
In fact, the prime minister was stink-bombed as he arrived for the gala in Covent Garden alongside the Queen.
Image copyright Getty Images Image caption Edward Heath met folk group Steeleye Span before they played at the Royal Albert Hall
In total, seven government departments and two specially-created temporary committees were involved in devising the programme for the Fanfare.
Crossbench peer and Arts Council chairman Lord Goodman led a committee responsible for cultural events – while a second committee, chaired by the Conservative peer Lord Mancroft, took the lead in other fields.
Cultural events dominated the schedule, with 25 art exhibitions on European themes arranged, as well as scores of concerts.
The Berlin Philharmonic were brought over for special concert, whilst groups such as the Kinks, Steeleye Span and Slade all had gigs.
Mona Lisa denied
At the Victoria and Albert Museum, an exhibition was put together featuring artwork loaned especially by each of the six existing EEC members.
Denmark sent two Bronze Age wind instruments, while the Italian donation, a bust of Brutus by Michelangelo, was described in the programme as a "highly expressive tribute to the fight against tyranny".
Meanwhile France,