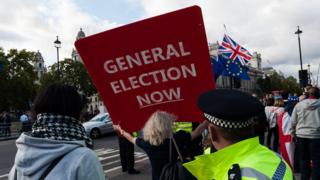 Image copyright Getty Images Image caption Passions were running high as MPs returned to work
The order paper was blank and MPs weren't even supposed to be in Westminster.
But the day after the Supreme Court ruled Boris Johnson's prorogation, or suspension, of Parliament was 'null and void', the cockpit of the House of Commons found itself full again.
Pitted against each other was a furious opposition who argued they had been unlawfully expelled from their place of work and an unrepentant government convinced the court had unjustly intervened and put at risk their central pledge of "getting Brexit done".
Eleven and a half hours later Parliament had been labelled "as dead as dead can be"; the prime minister likened to a tin-pot dictator and accused of inciting hatred, and there were calls for an investigation into the "toxic culture" at Westminster after some of the ugliest scenes ever seen in Parliament.
The day was 25 September 2019 and in the words of then Speaker John Bercow: "as an expression of parliamentary hostilities, this day was in a league of its own. I had never presided over anything like it before."
The prorogation
There were only a select few members of the cabinet who had had any idea about Boris Johnson's intention to prorogue Parliament.
Image copyright Getty Images Image caption Anti-Brexit demonstrators targeted the PM
Amber Rudd, then a cabinet member in her role as work and pensions secretary, said she found out via a text from Phillip Hammond – the former chancellor who'd been banished to the backbenches by Boris Johnson.
"I called a couple of my colleagues and said 'did you know about this?' Nobody knew except the inner cabal who were acting on it."
The tall, lean figure of Jacob Rees-Mogg, the leader of the Commons, had been spotted at Aberdeen airport with other members of the Privy Council on their way to meet the Queen at Balmoral.
One Cabinet member reflects ruefully "had they not sent Jacob and someone more obscure, it may well have been that the Privy Council meeting would have just happened and none of us would have been the wiser till after the event. The whole thing was cloak and dagger."
Another former minister contends that not only were the cabinet bounced into it, the Sovereign was as well.
A morning cabinet call was swiftly organised to inform the team.
"Every cabinet minister knew it was in fact a manoeuvre in order to stop members of Parliament being able to pass a bill so we couldn't leave (the EU) without a deal on October 31,"