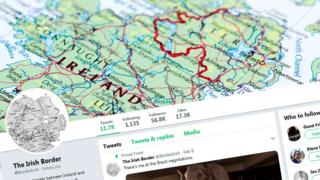 Image copyright Getty Images / Twitter Image caption The Irish border: on a map and on Twitter
The 310 mile border cutting through Ireland currently separates the Republic from Northern Ireland.
After Brexit, it will be the only land border separating the UK from the EU.
But it's also the only border in the world (as far as we know) to have its very own Twitter handle.
@BorderIrish arrived on the social media platform in February and has been trolling the Brexit negotiations ever since.
The account has over 55,000 followers, including the Irish Prime Minister Leo Varadkar and has even published its own satirical Penguin children's book.
Skip Twitter post by @BorderIrish
I dislike Brexit but, speaking as a border, I do admire its ability to completely divide a country.
— The Irish Border (@BorderIrish) March 6, 2018
End of Twitter post by @BorderIrish
The man behind the account, who wants to remain anonymous, has lived on both sides of the border.
He told Radio 1 Newsbeat that he wanted to inject a bit of humour into Brexit, as well as some much needed facts.
So who better to ask about the history of the border, the backstop and why it's become Theresa May's biggest Brexit headache:
Sorry to ask… but how old are you?
I'm about 97 years old.
I was meant to be temporary when I was invented, but I've been here ever since the Irish Free State and Northern Ireland were established.
I keep them apart, but kind of hold them together too.
So why are we hearing so much about you now?
I've almost disappeared over the years, but now the UK is trying to leave the EU, I'll be the UK's only land border with the EU.
This is very exciting for me, obviously, and involves a lot of time on Duolingo learning Estonian.
But it's also a bit disruptive politically, because it means I might have to be a harder border than I am now.
Image copyright Getty Images Image caption The actual Irish border: from County Armagh in Northern Ireland, looking across to County Louth, in the Republic of Ireland
A hard border – sounds like your teenage years…
In my early years I was hard because I had customs posts. There were men in uniforms holding up their hands and stopping cars and searching them for food.
Then when the Troubles came in the 1970s, the men in uniform were soldiers and I had heavy checkpoints and army watchtowers.
Skip Twitter post 2 by @BorderIrish
A border took a stroll through a deep,