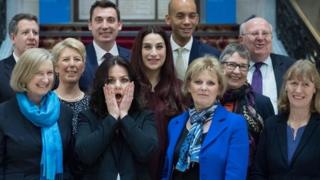 Image copyright PA Media Image caption The Independent Group hoped for a realignment in British politics
For a few weeks in the spring, a small group of ex-Labour and ex-Tory politicians – The Independent Group – was rarely out of the headlines. After two name changes and more than half its MPs leaving, it barely registers today.
When the The Independent Group was launched, the plan was to force a major realignment in British politics and entice others away from the main parties.
"This isn't some sideshow," insisted Anna Soubry, the most prominent of the three Conservatives to join the group. "This is serious. We need a new political party and it's absolutely got to be done."
The announcement of the new group in February came as a surprise, but preparations had begun in the autumn of 2017.
Gavin Shuker organised trips for up to 20 fellow Labour MPs unhappy with Jeremy Corbyn's leadership to meet in a Sussex farmhouse, where they discussed and plotted a breakaway. "I managed to get them out of London on crowded trains without anyone noticing," he said.
Mr Shuker became the convenor of what was to become The Independent Group. Alongside other Labour MPs Chuka Umunna and Chris Leslie, he persuaded a small number of colleagues to make the leap in February. The plan was for many more to follow.
All was going well, but then came a dramatic intervention by Labour's deputy leader Tom Watson, who set up a grouping to rival TIG – but staying within the Parliamentary Labour Party. The aim was to keep people inside Labour, which it effectively did, starving TIG of new recruits.
Too much too soon?
Despite the initial bonhomie among the 11 TIG MPs and encouraging poll ratings, it soon became clear that they lacked the organisational firepower to build momentum.
"We're overstretched and being treated as one of the principals on the field of play," Mr Umunna said a few weeks after the group formed. "That's exciting, but we're also absolutely exhausted."
What really held the MPs back, though, was indecision over who would be leader. Most wanted Mr Umunna, the most prominent of the Labour politicians inside the group, to take on the role, but some resisted.
He argued they wait until the autumn to elect a permanent leader. It was agreed that Heidi Allen, one of the former Conservatives, relatively unknown outside Parliament, would become interim leader. "It was a messy compromise," recalls Mr Shuker.
You can listen to Splitters, presented by Peter Snowdon, on BBC Sounds.
Without properly settling the leadership question, the group's voice struggled to be heard as events took an unexpected turn.
Following the third defeat for Theresa May's attempts to pass her Brexit deal through Parliament,