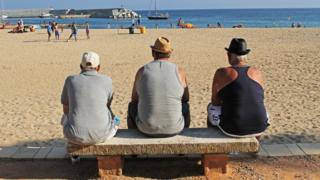 Image copyright Getty Images
The phrase "Brits abroad" often conjures up images of retirees enjoying the sun. But the reality is far more complex and even something of a puzzle.
Official figures suggest there are about three-quarters-of-a-million Britons living in the EU and that the majority are not retirees but workers – many of them young.
Other estimates put the number far higher.
It raises the possibility that we don't know how many people there are whose lives abroad will be affected by Brexit – or who they are.
Nevertheless, we know that many are concerned about the future.
Image copyright Getty Images
Putting a number on the UK diaspora means using census and registration data from the countries they live in.
The most recent official figures suggest 784,900 British citizens live in EU countries, excluding the UK itself and Ireland.
Published by the Office for National Statistics, they show nearly three-quarters are aged 64 or under. Seven out of 10 are living in Spain, France and Germany.
But these figures only count those who have been in a country for more than 12 months.
Those living and working overseas for a relatively short period of time – often younger workers – are undercounted. Many are seasonal workers, people on short-term contracts and students studying abroad.
Even those settled abroad for a longer time can be missed, as registration is not always compulsory. For example, an official at the UK consulate in Spain said there were "tens of thousands at least under the radar".
Coming up with a precise figure for the true number of Britons in Europe is difficult, but it could be 1 million to 2.25 million. This includes estimates for temporary residents, those currently not registered and dual nationals.
Citizens' rights after Brexit under withdrawal agreement
If the withdrawal agreement negotiated by Theresa May is accepted, citizens' rights will remain unchanged until the end of 2020
From 2021, under the UK government's current plan, EU citizens in the UK will be able to stay if they have settled status
Similar systems are expected to be put in place in the EU countries for UK citizens
If there is no deal, British and other EU governments say they will guarantee that citizens already in their countries can stay
Source: The withdrawal agreement – what it all means
Work and pay
The other problem with the official statistics is that they don't tell us much about who the Brits in Europe are.
Knowing more about their education, the jobs they hold and their incomes could help us understand more about their lives abroad –