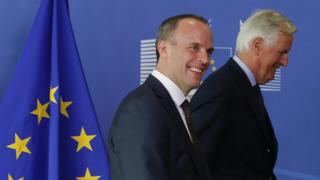 Image copyright EPA
When MPs return from their summer recess, Britain's departure from the EU will be fast approaching. Here are the key dates and parliamentary battles on the road to Brexit.
2018
20 September – EU leaders are expected to discuss Brexit, although a full summit has been ruled out
17-18 October – EU summit. This has been seen as a deadline for an agreement setting out the terms of UK-EU "divorce" – the so-called withdrawal agreement – to allow enough time for the UK Parliament and the European Parliament to ratify it. A political declaration on the future relationship between the UK and the EU is also expected at this point
November – The EU has suggested this month is the latest a deal could be finalised. There is speculation that an emergency EU summit on Brexit might be held in this month, if a withdrawal agreement and a declaration on the future relationship are not reached in October
If a deal has been agreed, MPs will be asked to approve it
13-14 December – EU summit. If a deal has not been done by October, this is the fallback option if the two sides still want to reach an agreement
2019
Ratification of the withdrawal agreement by the UK Parliament and the European Parliament.
21 January – If the government has not presented its withdrawal agreement by this date, powers for MPs to influence ministers' next steps will kick in
21-22 March – The final summit that the UK is expected to attend as a member of the EU
Before 29 March – Parliament will have to pass the European Union (Withdrawal Agreement) Bill to implement the withdrawal agreement, assuming it was approved by Parliament beforehand
29 March, at 2300 GMT – The UK leaves the EU. A special summit of the 27 other EU countries soon after the UK's exit is expected, but has not yet been scheduled
23-26May Elections for the European Parliament in 27 EU countries (the UK will no longer be represented in the parliament)
2020
31 December – If all goes to plan, this will be the last date of the transition period
Parliamentary battles
Image copyright Getty Images
Vote on the Withdrawal Agreement
What is it?
If and when ministers return with a deal, MPs will vote on the withdrawal agreement and the framework for the future partnership. This will act as the "meaningful vote" promised to MPs by the prime minister.
The rules surrounding what happens if things don't go to plan were written into law in the Withdrawal Act: In the event that MPs refuse to approve the withdrawal agreement or no deal is reached by 21 January 2019, the government will have to present its plans for next steps to Parliament.