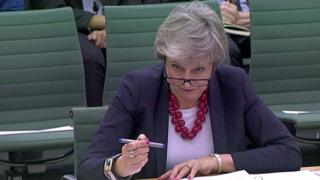 Image copyright HoC
Theresa May has refused to speculate about what she will do if MPs vote down her Brexit deal on 11 December.
She said she wanted MPs to "focus on the choice that lies in front of them" and ignore other potential options.
She described calls for another referendum or delaying 29 March's departure date as attempts to "frustrate" Brexit.
The prime minister was appearing before the liaison committee of select committee chairs.
She said if MPs "voted down" her deal "then obviously decisions would have to be taken" and planning for a no-deal Brexit would be stepped up.
Labour is hoping to force a general election or, failing that, another referendum, if, as currently widely expected, MPs reject Mrs May's deal.
Mrs May told the committee the only deal on offer was the one she had negotiated with the EU.
"This is an important point in our history. It is a vote on which we will be deciding whether we deliver on the decision of the British people," she told the MPs.
"What has been made clear from the European Union is that this is the deal that has been negotiated and this is the deal that people need to focus on when they are looking at the vote."
She faced repeated calls to rule out a no-deal Brexit but declined to do so.
Image copyright HOC Image caption Sarah Wollaston asked about the NHS and another referendum
Asked by Conservative MP Sarah Wollaston about fears of medicine shortages and other impacts on the NHS of a no-deal Brexit, the PM said: "If anybody is concerned about these matters it is another reason to focus on the deal."
She claimed delaying Brexit for another referendum would lead to the re-opening of negotiations with the EU, something she said Brussels had ruled out.
But the main reason she was against another referendum, she told MPs, was that it would destroy trust in politics and lead to "more uncertainty and more division in this country".
Labour seek to change focus of vote
Labour has tabled an amendment to the vote on 11 December calling on MPs to reject Mrs May's "bad" Brexit deal.
It also calls on MPs to prevent "the chaos of the UK crashing out of the EU without a deal" and to "keep all options on the table to protect the UK from a no deal scenario, with a general election as the best outcome for the country".
Leader Jeremy Corbyn said: "Labour will oppose Theresa May's botched Brexit deal that puts jobs,