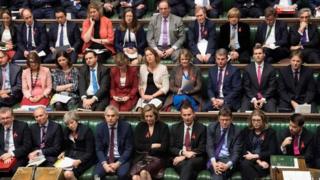 Image copyright Reuters
With a Commons vote on her Brexit agreement set for 11 December, Theresa May has less than two weeks to turn her fortunes around.
However, at this point, the prime minister's deal seems to have only further entrenched Tory battle lines against her.
The number of Conservative MPs against the deal currently floats at around 93, according to the latest BBC tally.
This only includes those who have explicitly stated they don't support it. Total opposition, including Tory MPs who have yet to publicly declare their position, is said to be well over 100.
There are 315 Tory MPs in Parliament – not counting two who are currently suspended – and they have splintered off into a a bewildering array of factions over Brexit.
Here's a guide to the different groups.
Ardent Brexiteers
They're advocating, and have long advocated, leaving the EU without a deal in place, or on World Trade Organization (WTO) terms, and have categorically ruled out supporting the prime minister's deal.
Made up of the most fervent and veteran Brexit supporters within the European Research Group, the Eurosceptic think tank headed by Jacob Rees-Mogg, these MPs view achieving their version of Brexit as more important than keeping Theresa May in No 10.
Some, arguably, think it is even more important than keeping the Conservatives in government – although chances are you probably won't hear them admitting this publicly (the Democratic Unionist Party, who keep Mrs May in power, have recently hinted at this, if it means the deal's proposals for Northern Ireland can be ditched).
They are only a handful in number, but given Mrs May's increasingly slim parliamentary majority – with the DUP also opposed to her deal – this troublesome tribe could prove numerous enough to sink her deal.
'No Dealers'/WTO terms
This group thinks there is no longer enough time to realistically achieve a renegotiation of the deal on offer before the legislated exit day of 29 March 2019, as well as believing the prime minister has used up all her bargaining power and political capital in Brussels and has reached the point of no return, or, as numerous EU leaders stated last weekend: "This is it."
These Conservatives argue that a no-deal Brexit – where the UK would leave the EU on WTO trading terms – is better than the deal Mrs May has put on the table and the only option left in the face of what they view as an inevitable defeat in parliament.