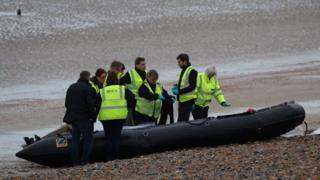 Image copyright Reuters Image caption The UK Border Force found a dinghy and 12 migrants at Greatstone, Kent, on Monday
Two UK Border Force boats will be redeployed from overseas to patrol the Channel in response to recent migrant crossings, the home secretary has said.
Sajid Javid said the operation would protect human life, as well as borders.
Mr Javid met Border Force officials earlier after agreeing a joint action plan with France.
Twelve migrants were found on the Kent coast on Monday, bringing the total number of people to have reached the UK by boat since November to 239.
The home secretary said around 230 people tried to cross the Channel in December, but half of them were "disrupted" by French officials and did not leave France.
The decision to recall the vessels was taken by the Home Office after some MPs – including Conservative backbenchers – called for more Border Force patrols to be deployed.
Only one of the five Border Force cutters – specialist boats which the force describes as being capable of rescuing several migrant boats at the same time – had been working in the Dover Strait.
The two being brought back are currently in the Mediterranean.
The Border Force also has three of its six coastal patrol vessels in the Channel, but the Home Office said this remained under "constant review".
Sorry, your browser cannot display this map
Mr Javid said the incidents around the Channel were still a "serious concern" to him, adding: "It's both about protecting human life but also about protecting our borders.
"When it comes to human life, clearly I want to make sure that we are doing all we can to protect people.
"This is one of the most treacherous stretches of water. Twenty-one miles with people taking grave risk, really putting their lives into their own hands by taking this journey."
But in a message to those thinking of crossing the Channel this way, he added: "We will do everything we can to make sure it is not a success, in the sense that I don't want people to think that if they leave a safe country like France they can get to Britain and then just get to stay."
The migrant view from Calais
By Damian Grammaticas,