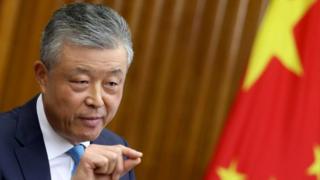 Image copyright Reuters Image caption Liu Xiaoming, China's ambassador to the UK, gave a press conference for over an hour on Thursday
The relationship between the UK and China has been "seriously poisoned", says Bejing's ambassador to London.
In a lengthy press conference, rebutting criticism of the Chinese government, Liu Xiaoming said the UK was at a "critical historical juncture" in its future with his country.
The ambassador urged the UK to "resist pressure" from the US to condemn China.
And he rejected accusations of human rights violations against Uighur Muslims in the Xinjiang region.
The UK and China have had a number of political disputes in recent months, including over the banning of technology firm Huawei from the UK's 5G mobile network and the new security law imposed in Hong Kong.
But Mr Liu said he hoped the governments had "enough wisdom and capabilities" to move forward from their differences "rather than allowing anti-China forces and Cold War warriors to kidnap the China-UK relationship".
A spokesman from the Foreign Office referred the BBC to earlier statements made by Foreign Secretary Dominic Raab, saying the UK government would "work to maintain positive, constructive engagement with the Chinese government".
But Mr Raab also stressed "the importance of China rebuilding trust with the international community by living up to its international responsibilities" and "upholding its international human rights obligations", adding: "The United Kingdom is watching. And the whole world is watching."
Labour's shadow foreign secretary Lisa Nandy said it was "important the UK continues to have a constructive relationship with China".
But, she said, it "cannot be at the expense of our values, whether it is standing up for the rights of people in Hong Kong or speaking up for the human rights of the Uyghur people".
Mr Liu's press conference, addressing divisions between the UK and China, lasted for over an hour, with him condemning "irresponsible remarks" of British ministers and the press for their coverage of his government.
He said China "respects UK sovereignty and has never interfered in the UK's internal affairs" and it was "important the UK will do the same," calling for the British government to "stop interfering in Hong Kong's affairs… so as to avoid further damage to the China-UK relationship".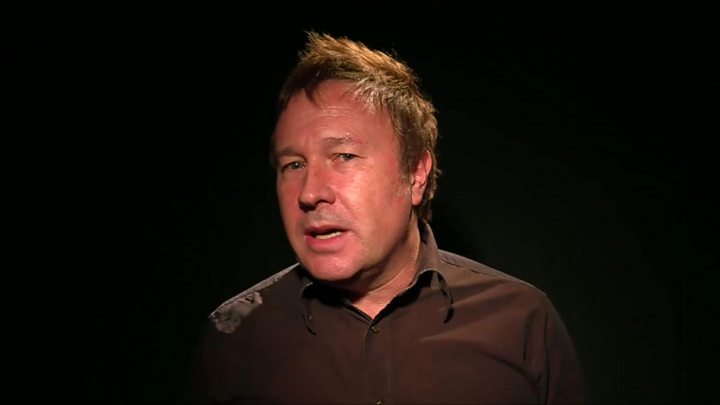 Media playback is unsupported on your device
Media captionStephen McDonell explains what the law means, » Read More at bbc.co.uk