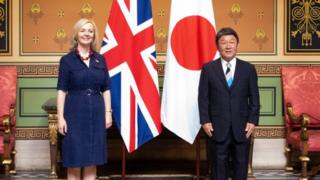 Image copyright DfIT
The UK and Japan hope to agree the details of a post-Brexit trade agreement by the end of the month.
The two sides said they had made progress during two days of face-to-face talks in London.
Japanese Foreign Minister Toshimitsu Motegi said there was "substantial" agreement in most areas.
And the UK's Liz Truss said there was a "consensus" on extending Japan's current trade standards with the EU in financial and digital services.
Earlier on Friday, there were reports that agriculture remained the last remaining obstacle to be overcome.
After leaving the EU on 31 January, the UK is having to negotiate its own trade agreements with many of the world's leading economic powers, including the US.
But while an agreement with the US is unlikely to be completed this year, talks with Japan – the UK's fourth largest trading partner outside Europe – are more advanced.
A deal could ultimately increase the UK's trade with Japan by about £15bn a year.
Both sides are keen to get a deal in place before the end of the year, when the UK's post-Brexit transition period expires. If there is no agreement by then, UK-Japanese trade will default to World Trade Organisation rules.
This could result in significant tariffs on imports and exports and other trade obstacles.
'Shared aim'
The deal being negotiated is likely to mirror Japan's 2019 agreement with the EU in many areas, including the automotive and luxury goods sectors.
Image copyright Getty Images Image caption Cars exports will be included in any deal
But the UK has been pushing for much greater access in services and e-commerce.
Mr Motegi said the two sides had agreed to accelerate talks wit