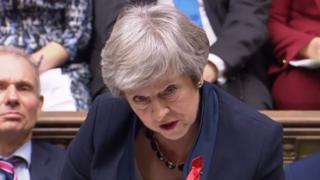 Image copyright Getty Images
The UK faces a "constitutional crisis" if Theresa May does not publish the full legal advice on her Brexit deal on Monday, Labour has warned.
The PM says the advice is confidential. but some MPs think ministers do not want to admit it says the UK could be indefinitely tied to EU customs rules.
Ex-foreign secretary Boris Johnson has joined calls for its publication, which critics say could sink the PM's deal.
Attorney General Geoffrey Cox will make a statement about it on Monday.
He is set to publish a reduced version of the legal advice – despite calls from MPs from all parties to publish a full version.
His statement to the House of Commons will be followed by five days of debate on the deal.
MPs say the statement from the attorney general does not respect a binding Commons vote last month, which required the government to lay before Parliament "any legal advice in full".
Labour is planning to join forces with other parties, including the DUP, who keep Mrs May in power, to initiate contempt of Parliament proceedings unless the government backs down.
Shadow Brexit secretary Sir Keir Starmer told Sky News: "If they don't produce [the advice] tomorrow (Monday) then we will start contempt proceedings. This will be a collision course between the government and Parliament."
His shadow cabinet colleague Barry Gardiner told the BBC's Andrew Marr show the prime minister faced a "very serious constitutional crisis" if she refused, and the only answer was a general election.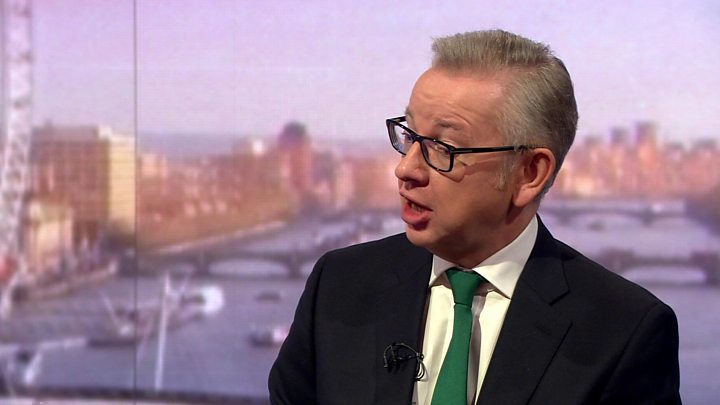 Media playback is unsupported on your device
Media captionMichael Gove: "I'm supporting the prime minister"
According to the Sunday Times, Mr Cox told ministers in a letter the only way out of the Northern Irish "backstop" agreement would be to sign a new trade deal, a process which could take years.
Brexit-supporting MPs say it could mean an open-ended commitment for the UK, forcing it to remain in the EU's customs union while details of the deal are being worked out.
Downing Street has not responded to claims by the Daily Telegraph that a letter from Mrs May's chief Brexit adviser, Olly Robbins, warned her it was a "bad outcome" with no legal "guarantee" Britain would be able to exit the mechanism.
Mr Johnson, who resigned from government over the PM's Brexit vision, described the arrangement in his weekly Daily Telegraph column as "a great steel trap that is about to clamp its jaws around our hind limbs and prevent our escape".