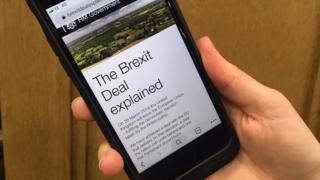 The government is paying to promote Theresa May's Brexit deal on Google – but is facing a battle with opponents of the deal using very similar headlines.
The Cabinet Office says it will reveal how much is being spent to push the government's message to the top of the rankings when people search "what is the Brexit deal?".
However, we may not find out until after MPs vote on the deal next month.
And the government ad keeps being knocked off the top spot by a campaign group called "Britain's Future", which says May's deal betrays Brexit.
The government page says "if we reject this deal, we will go back to square one".
Image copyright Google Image caption Two contradictory adverts about the Brexit deal
The two competing sites appear to have a similar look and feel when they appear in Google search results.
Google said this did not break the terms of conditions of its site – which routinely allocates the top search spot based on an ad auction.
Theresa May is going all out to sell her deal to the public before MPs – a majority of whom are thought to be against it – vote on 11 December.
How much is it costing the government?
The Cabinet Office does publish how much it spends on marketing government policies, for example it spent £44,219 on Facebook's services in September.
But we are unlikely to know how much it has spent on promoting Theresa May's deal on Google until after MPs have voted on it.
A government spokesperson said: "Communicating government policy effectively to the public is a core function of the Civil Service.
"We have reached a deal that is good for the UK, good for its citizens, and good for business and we will be communicating that to the country. Any costs associated with this will be published in the usual way."
What do you see when you search for Brexit?
First, try yourself by clicking this link. Most people see a promoted link at the top of the results, clearly labelled "ad".
This means somebody is paying for this site to be at the top of your results.
However, the advert you see will vary depending on the time of day and where you are in the world.
You might see this advert, for a page called "Brexit Deal Explained", paid for by the government.
Image copyright Google Image caption The government's advert appears for some people
It links to a website called "Brexit Deal Explained" which sets out the government's case for the EU withdrawal agreement – and warns about the dangers of a no-deal Brexit.