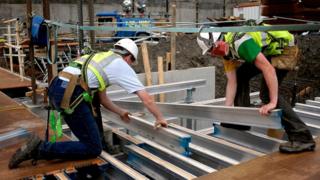 Image copyright Getty Images Image caption The construction sector grew by 0.9% over the quarter
Economic growth in the UK picked up in the three months to June as construction and services were lifted by the warmer weather, according to the Office for National Statistics (ONS).
The economy grew by 0.4% in the period, compared with a rate of 0.2% in the first quarter of the year.
However, the ONS added that underlying growth remained "modest".
The ONS also said that the economy grew by 0.1% in June, down from a more robust 0.3% in the previous month.
The head of national accounts at the ONS, Rob Kent-Smith, said: "The economy picked up a little in the second quarter, with both retail sales and construction helped by the good weather and rebounding from the effects of the snow earlier in the year.
"However, manufacturing continued to fall back from its high point at the end of last year and underlying growth remained modest by historical standards.
"The UK's trade deficit noticeably worsened, as exports of cars and planes declined sharply while imports rose."
Figures from the ONS showed the total UK trade deficit widened by £4.7bn to £8.6bn in the three months to June.
The service sector – which accounts for nearly 80% of the UK economy – grew by 0.5% in the second quarter of the year. Construction output jumped 0.9%, but industrial production fell 0.8% during the period.
The ONS also mentioned World Cup celebrations as a contributing factor to the pick-up in growth.
'Slowing growth'
Chancellor Philip Hammond said: "We are pleased to see a recovery of the economy in the second quarter – a robust figure which points to the underlying fundamental strength of the British economy."
However, the ONS said: "Abstracting from these quarterly movements, the underlying trend in real GDP is one of slowing growth.
"The UK economy grew by 0.6% in the first half of 2018, compared with the second half of 2017 – continuing the declining trend seen since the second half of 2014."
Labour's shadow chancellor, John McDonnell, said: "More than eight years of unnecessary ideologically-driven austerity has created an economy unable to cope with the instability brought about by the Tories' mismanagement of the Brexit negotiations.
"Growth is anaemic, councils are going bankrupt and the NHS is now in permanent crisis while holidaymakers are being hit by the Tories' falling pound."
Growth 'looks subdued'
Nancy Curtin, chief investment officer at Close Brothers Asset Management, said: "A rebound i