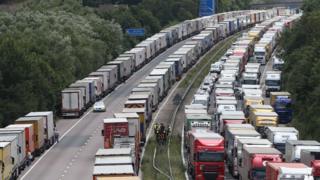 Image copyright Getty Images
There is a "real prospect" of "major disruption" at UK ports in the case of a no-deal Brexit, according to MPs.
The Public Accounts Committee (PAC) said government preparations for avoiding disruption around major ports were "worryingly under-developed".
Committee members also said there was a "real risk" the Department for Transport (DfT) would not be ready for a hard Brexit.
The DfT said the committee's conclusions were not "accurate".
In a statement it said it was "both disappointed and surprised" that the PAC had "failed to reflect" the evidence in the National Audit Office's report "which found that the department has made a determined effort in its preparations and achieved a great deal".
The UK is set to leave the EU on 29 March 2019.
The PAC is responsible for scrutinising the value for money of public spending, and holding the government to account for the delivery of public services.
It has published a series of reports looking at different government departments' preparations for Brexit.
As with these previous reports, it was "concerned about how well government is prepared".
Committee chairwoman Meg Hillier said: "The future of road, rail, maritime and air access to Europe after Brexit remains unclear and the Department for Transport has a critical role in ensuring the UK is prepared.
"With so little time remaining, there is still much to do. The risks associated with no-deal are severe, yet plans for avoiding disruption around major ports in particular are worryingly under-developed."
The DfT intends to introduce "Project Brock", to deal with lorry queues on roads to Dover for cross-Channel journeys.
The plan involves holding coast-bound lorries on the M20 so traffic not heading for the port can carry on moving.
Analysis: Tom Burridge, BBC transport correspondent
Much of the criticism in this report from MPs is centred on the notion that the Department for Transport (DfT)'s preparations for a "no deal" scenario have been too secretive. They argue that it makes it harder for the wider business community to plan.
We have known for some time now that the government has been using non-disclosure agreements when it has been discussing no-deal plans with transport companies.
Some details have leaked out. For example, I've been told that officials have been asking ferry companies about their capacity to carry vital supplies in the event of EU customs checks causing disruption at the border.
The DfT says preparations need to be kept secret to avoid them damaging the commercial interests of the firms involved.