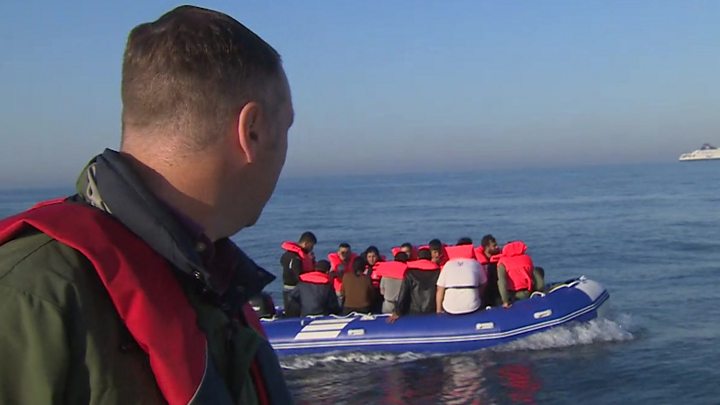 Media playback is unsupported on your device
Media captionBBC Breakfast's Simon Jones at sea with migrants crossing the Channel
The UK will press French authorities to crack down on migrants attempting to cross the Channel in small boats, ministers have pledged.
A record number of unaccompanied children arrived in the UK on Friday.
Schools Minister Nick Gibb said the government was also considering how to use "maritime assets" in order to prevent crossings.
And, writing in the Daily Telegraph, Immigration Minister Chris Philp said migrants should be fingerprinted.
However, it is unclear what the proposal will amount to, as the fingerprints of asylum seekers are already stored under the European Union Eurodac system.
Mr Philp said migrants would know "they face real consequences if they try to cross again", and added he would "negotiate hard" with French officials about how to deal with the crossings.
The BBC's Europe reporter Gavin Lee, in the north of France, saw a migrant boat with up to 20 people on board, including children, depart from a tourist beach near the harbour of Gravelines on Saturday morning.
The "overloaded" boat struggled for almost an hour at the water's edge, he said, adding there was no sign of any surveillance on the beach since the early morning.
Across the Channel in Dover, BBC reporter Simon Jones said the coastguard was dealing with a number of incidents.
Mr Jones said that local people have been asking why more is not being done by the French to patrol the coastline, but authorities across the Channel have said they need more finances from the UK government.
Questions have also been raised about why once people arrive in the UK they are not sent back to France.
'Loophole'
Home Secretary Priti Patel has described the situation as "complex", saying in a tweet on Friday that the government faces "serious legislative, legal and operational barriers".
The Home Office said it is possible that the Royal Navy could be brought in to patrol the Channel's migrant traffic.
But the idea of using the Navy was branded "completely potty" by a Ministry of Defence source, the PA news agency reports.
The source said such action would be "inappropriate and unnecessary" and that military resources should not be used to address "political failings".
Former Labour home secretary Jack Straw said any attempt to model Australia's controversial "push back" tactics – used against migrants travelling from Indonesia –