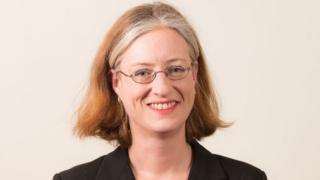 Image copyright UKIP Image caption Michelle Brown has been a North Wales AM since 2016
UKIP's team in the assembly has shrunk to just three after one of its AMs quit the party, calling the assembly group a sexist boys' club.
Michelle Brown has become the fourth assembly member to leave the group since it entered the institution with seven in 2016.
The North Wales AM said she could no longer stomach UKIP, attacking its leader Gerard Batten's association with far-right figure Tommy Robinson.
UKIP said she should resign as an AM.
The party alleged she was only quitting UKIP to avoid censure, alleging poor attendance.
Assembly UKIP leader Gareth Bennett said her reasons were "bogus".
Ms Brown's decision follows Caroline Jones, Mark Reckless and former AM Nathan Gill's exits from the group.
In a statement Ms Brown said she had feared the "voice of reason" in the party was fading when she saw UKIP Wales leader Neil Hamilton and Mr Batten appearing on a stage with Tommy Robinson, the former leader of the English Defence League.
She alleged that on Friday Mr Batten sent an email saying Tommy Robinson would sponsor a UKIP event, elevating "his involvement and status within UKIP exponentially".
"While it is clear that the UK needs a plan to defeat extremism and fundamentalism in all its forms and identities, I fear that the current UKIP leadership believes the best way to do that is to incubate and cultivate a rival fundamentalism," she said.
Mr Batten appointed Mr Robinson as an adviser last year.
Image caption Gerard Batten has led UKIP since he was appointed last year
The AM attacked Gareth Bennett's leadership of the group, saying he had made no effort to keep Caroline Jones in and was a key player in Mandy Jones' exclusion from it.
Ms Jones replaced Mr Gill after he quit the Senedd.
"The group does not function as a group but as a boys' club – it is not by chance that the group no longer has any female members," she said.
She said the group had a "self-inflicted image as a sexist, self-interested 'Gentlemen's club'".
"Over the last few months I have felt increasingly uncomfortable speaking and voting on behalf of the UKIP group, when I have lost all respect for the party's leadership on both sides of the border and have not been afforded any input into how the group should vote or the direction the group should take," she said.
Ms Brown added: "As a genuine Brexiteer,