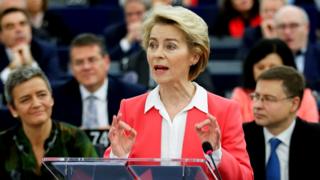 Image copyright Reuters Image caption The European Commission's next president Ursula von der Leyen seeks approval of her team
The first woman to take on the EU Commission presidency, Germany's Ursula von der Leyen, has urged lawmakers to approve her team and "give Europe a new start" with a focus on climate change and technology.
Wednesday's vote in the European Parliament in Strasbourg requires a simple majority to take office on 1 December, a month later than planned.
Mrs von der Leyen vowed to build a team to lead the EU's executive body made up of equal numbers of men and women.
Her list of 27 will see 12 women get a seat at the top table – herself included – after weeks of stumbling over nominees grilled by members of the European Parliament (MEPs).
There will be no UK commissioner. Prime Minister Boris Johnson's government opted not to nominate a candidate even though the UK has not yet left the union and the EU has since launched legal action.
"One member of our family intends to leave our union," Mrs von der Leyen said on Wednesday to cheers and clapping from the UK's Brexit Party MEPs. "A vast majority of this house appears to be very happy that the small [Brexit] group will not be able to clap as loudly any more," she said to rapturous applause.
A number of MEPs voting on Wednesday voiced objections to some of the chosen candidates, citing conflicts of interest.
So who are some of the key names to look out for?
Thierry Breton (France): Internal Market and Services
Image copyright Getty Images
"I sold all my shares," the ex-head of French tech giant Atos assured MEPs, when they raised questions about possible conflicts of interest earlier this month.
The 64-year-old was France's second candidate for the von der Leyen team after President Emmanuel Macron's preferred choice, Sylvie Goulard, was rejected.
Mr Breton has stressed the need to regulate the tech sector and bring in single market rules, which he argues would help address challenges from competition outside the EU.
Thierry Breton caused a bit of a stir at the helm of Atos in 2011 when he announced a plan to ban internal email exchanges. The idea, aimed at removing distractions and improving individual productivity, was described at the time as both "bold" and "stupid".
In the years that followed, email correspondence at Atos was gradually replaced with an internal messaging system – a move credited with helping to boost growth.
Margrethe Vestager (Denmark): Vice-President – Europe fit for the Digital Age
Image copyright Getty Images
A big name in Danish politics,