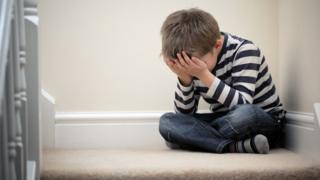 Image copyright Getty Images Image caption The Children (Abolition of Defence of Reasonable Punishment) Bill passed with the support of Labour and Plaid Cymru assembly members
A law banning people in Wales from smacking their children has been passed by the Welsh Assembly.
It is the second part of the UK to do so, after Scotland. The ban will begin in 2022.
Julie Morgan, deputy social services minister, said it was a "historic day".
But the Conservatives Janet Finch Saunders said the state was stepping into the private lives of families. Assembly members passed the law with 36 votes for, 14 against.
The legislation removes the defence of "reasonable punishment" in cases of common assault.
Ms Morgan had campaigned for years for a ban and had broken the Labour whip over the issue when the Welsh Government did not support it, in 2015.
"This is not about the government telling parents how to raise their children or about criminalising loving parents," she told a press conference on Tuesday.
She said the government had listened to the "vocal minority" who opposed the move, but that removing the defence of reasonable punishment "is the right thing to do".
"The children of Wales should have the same protection as adults in Wales have."
Image caption Julie Morgan said the law was not about the Welsh Government 'telling parents how to raise their children'
She added: "What we are saying is no physical punishment – not to use physical means to punish your children."
She said that could extend to shaking, as well as smacking.
'Not right or fair'
The Welsh Government bill passed with the support of Labour and Plaid Cymru AMs.
At the Senedd debate Welsh Conservative AM Janet Finch-Saunders said she was unconvinced that removing the defence was "right or fair" for Wales.
Her party had a free vote on the legislation and was split. Tory AMs David Melding and Angela Burns backed the law while other colleagues that voted opposed it.
Ms Finch-Saunders said: "With this bill the state is now stepping into the private lives of families".
She added: "Through the involvement of the police and social services… this smacking ban this will potentially have far reaching consequences for us all."
Brexit Party group leader Mark Reckless said that while he did not feel it was morally right to smack a child, the time was not right to legislate while "many loving families" still use physical chastisement.
Helen Mary Jones, of Plaid Cymru, said it was a "happy day"