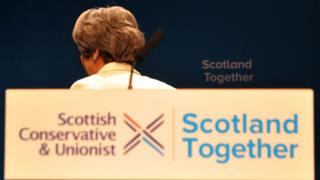 Image copyright Getty Images Image caption Theresa May is walking away from the top job – but who will replace her?
Theresa May has resigned as Conservative Party leader, with 10 MPs currently in the race to replace her. What are the candidates to be the next prime minister saying about Scotland, and would any agree to a second independence referendum?
Boris Johnson – 'UK better together'
Image copyright Ross Thomson / Twitter Image caption Boris Johnson attempted to add some girders to his campaign in Scotland by sampling Irn Bru
Former foreign secretary and London mayor Boris Johnson was a frontrunner for the Conservative leadership before Mrs May had even confirmed there would be a vacancy.
He recently visited the North East for a fundraising event with local Scottish Tory MPs, and has won the endorsement of two of them, Colin Clark and Ross Thomson.
His leadership campaign has been fairly low-key so far, but Mr Johnson has made his position of opposing a second independence referendum fairly clear – he tweeted that "the United Kingdom truly is better together and we must never put that at risk".
However his key pledge so far – to raise the higher rate of income tax from £50,000 to £80,000 – has come under fire as it would not apply in Scotland, so could ultimately see some Scots pay more in National Insurance Contributions.
Image Copyright @BorisJohnson @BorisJohnson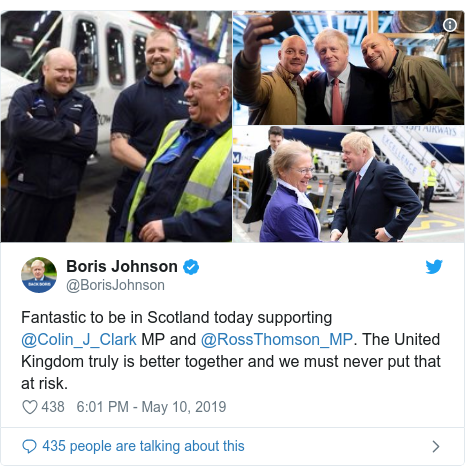 Image Copyright @BorisJohnson @BorisJohnson
Report
Mr Johnson famously clashed with Scottish Conservative leader Ruth Davidson during the EU referendum campaign, with the two representing the opposing sides during a television debate.
However, Ms Davidson has since suggested she could work with Mr Johnson if he wins the race, saying she will "genuinely judge him on the same criteria as I judge any of the candidates".
Another long time critic of Mr Johnson – First Minister Nicola Sturgeon – has been less circumspect about his prospects, saying he would be a "disaster" as prime minister.
She said: "There is no part of me which wants to see Boris Johnson in Number 10. He would be a disaster as prime minster, and he was a disaster as foreign secretary."
Jeremy Hunt – 'Listen to the people of Scotland'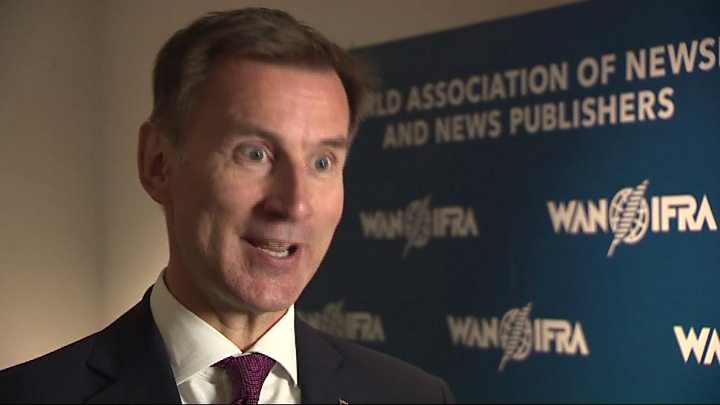 Media playback is unsupported on your device
Media captionJeremy Hunt says the people of Scotland are "loud and clear" on another independence referendum – they do not want it
Foreign Secretary Jeremy Hunt is one of many leadership candidates who has visited Scotland in recent weeks, and has been rewarded with the backing of Scottish Tory MP John Lamont.
He was the first member of the cabinet to rule out agreeing to a new independence referendum,