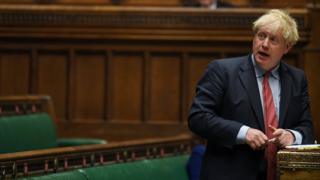 Image copyright Reuters
The summer recess is over and MPs are returning to Westminster with very full inboxes.
As Parliament throws its doors open for the new term, what challenges lie ahead for the government in the coming months?
Coronavirus
The challenges of posed by the coronavirus pandemic will be forefront of ministers' minds: how to encourage a return to something approaching normal while keeping the virus under control.
As the holiday season winds up, many in the Conservative party want to see more done to encourage people back to offices in England – and ministers are urging people working from home to speak to their employers about returning to workplaces where it's safe to do so.
Health Committee chair Jeremy Hunt has warned that the situation coming into winter is "potentially very perilous".
"I think if we want to get the economy back moving the most important thing is that we keep transmission as low as we possibly can," he said.
Brexit trade talks
Image copyright Reuters
While much of the focus is likely to be coronavirus, there is also securing a trade deal with the European Union.
Boris Johnson has been clear on the timetable. He says the transition period – which means the UK is still following many EU rules – must end on 31 December 2020.
If the two sides do not reach an agreement by the end of the year, the UK would revert to trading with the EU on World Trade Organisation terms – something many Tory MPs are comfortable with, but which critics claim could damage the economy further.
Talks between the teams of negotiators have been ongoing since March, with some virtual summits replacing face-to-face meetings during the height of lockdown.
But at the end of every round of negotiations, the same message comes out from both camps – there has been "little progress" and "considerable gaps remain".
BBC Reality Check's Chris Morris said compromises will need to come to the surface in September so the EU and UK can agree a deal in October – giving both sides enough time to ratify it with their parliaments.
Furlough
Image copyright PA Media
As with the last six months, coronavirus is expected to dominate the next, and one scheme in particular will certainly be ripe for debate.
Chancellor Rishi Sunak received much praise from both sides of the House when he introduced the Coronavirus Job Retention Scheme back in March.
It saw the government cover 80% of wages for employees who could not work because of the outbreak.
More commonly known as the furlough scheme,