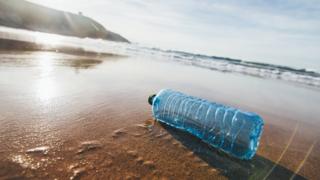 Image copyright Getty Images
A bill to tackle environmental priorities is to be published by the government later.
It aims to improve air and water quality, tackle plastic pollution, restore wildlife, and protect the climate.
Environmentalists have welcomed several of the proposals, especially on restoring nature.
But they say on other green issues ministers are going backwards – and they're anxious to see details of the new policies.
Under EU rules, for instance, the government has faced heavy fines for failing to meet air quality standards.
With Brexit set to remove the stick of these rules, an independent watchdog, the Office for Environmental Protection, is being created to hold the government to account.
Ministers say the watchdog won't be able to fine the government if it fails to uphold its commitments – but will ensure it is held to account, with the ability to stop projects and hold authorities in contempt of court if they breach environmental standards.
But campaigners fear that the new watchdog could be muzzled, tamed and stripped of funding.
'Powerful weapon'
Conservative peer Lord Randall – a green adviser to former prime minister Theresa May – told BBC News that the Treasury appeared to have relaxed its objections to a powerful independent watchdog.
But he said it would still be useful if the new body could fine the government for environmental transgressions.
"I can see it might look silly if one government body fines another, but it would be a very powerful weapon," he said.
Crucially, policy details of the bill have not yet been released.
Take air pollution.
Many parts of the UK breach World Health Organization standards for fine pollution airborne particles.
The government promises an "ambitious, legally binding" target to reduce small particulate matter, known as PM2.5.
But so far, it hasn't stated what the standards would be, or when they would apply.
Previously, it was forced to improve nitrogen oxides pollution under the threat of fines from the EU. The new watchdog won't have the power to issue fines.
Also, it looks as though ministers are preparing to avoid controversial national measures by giving local councils the job of cleaning up the air.
On waste, Mrs May's government signed up to the EU's "circular economy" directive, which would see producers pay 80% of the costs for disposing of the packaging that wraps their goods.
Prime Minister Boris Johnson has told the EU that the UK will have separate "ambitious"