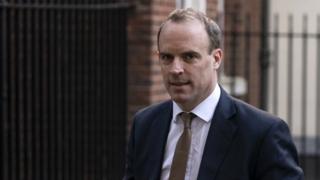 Image copyright EPA
The UK government says Prime Minister Boris Johnson is "still very much in charge", after he was admitted to hospital with "persistent" coronavirus symptoms. But Foreign Secretary Dominic Raab is chairing meetings in his absence. So who is he?
Less than three years ago, Dominic Raab wasn't even in the government.
But now, as foreign secretary and first secretary of state, he is the de-facto second-in-command to Mr Johnson.
That means he could take over running the government for a while if the prime minister sees his health worsen.
It's an opportunity Mr Raab, a 46-year-old former lawyer, would relish, under normal circumstances.
The staunch Brexiteer ran for the Conservative Party leadership last year but he was knocked out in the second round of voting by MPs.
Prior to that he had run-ins with Mr Johnson's predecessor, Theresa May, quitting her cabinet after just over four months as Brexit secretary.
The sometimes outspoken Mr Raab has had a volatile time – going in and out of favour – since becoming Conservative MP for Esher and Walton, Surrey, in 2010.
Who is Dominic Raab?
Image copyright Getty Images
Date of birth: 25 February 1974 (age 46)
Job: Foreign secretary, Conservative MP for Esher and Walton
Education: Dr Challoner's Grammar School, Amersham, Oxford and Cambridge universities
Family: Married to Erika Ray, a Brazilian marketing executive. Two sons
Before politics: Foreign office lawyer. He was the lead on a team focusing on bringing war criminals to justice at The Hague
A married father of two, Mr Raab was born in 1974, the son of a Czech-born Jewish refugee who fled the Nazis in 1938.
He was was brought up in Buckinghamshire and attended Dr Challoner's Grammar School in Amersham, before studying law at Oxford University and switching to Cambridge for his master's.
He worked as a lawyer in the commercial sector and the Foreign Office before entering politics in 2006 as an aide to Brexit-supporting Conservative MP David Davis, and then Remain-backing Dominic Grieve.
First elected to Parliament in 2010, the following year Mr Raab angered the then home secretary, Theresa May, by describing some feminists as "obnoxious bigots" in an online article also claiming men were getting "a raw deal".
Mrs May accused him of fuelling "gender warfare".
Mr Raab remained on the back benches for five years after becoming an MP.
But the karate black-belt became a junior justice minister following David Cameron's general election victory in 2015.
He played a prominent role in the successful Leave campaign in the 2016 EU referendum, but was sacked by Mrs May when she took over as prime minister.
Cabinet role
In 2017,