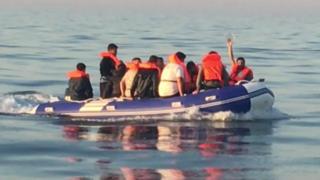 Rising numbers of migrants are trying to cross the English Channel in dinghies and other small boats.
Who are they and why do they make the journey?
How many people are trying to make the crossing?
This year, almost 4,000 people have crossed the English Channel, in more than 300 small boats. There was a new record of at least 235 arrivals on 6 August.
The numbers attempting the crossing are higher – but some boats are intercepted by the French authorities before they reach British waters.
The boats tend to be small dinghies that are overcrowded. The passengers sometimes include babies and children – and they're crossing one of the most dangerous and busy shipping lanes in the world.
Under international maritime law, people at risk of losing their lives at sea must be rescued.
How many migrants arrive in the UK each year?
In 2019, some 677,000 people moved to the UK as long-term immigrants, for reasons such as work or study.
There were also 49,000 asylum applications.
As such, the 4,000 unauthorised Channel arrivals are equal to less than 1% of all immigrants last year.
The number of asylum seekers arriving and applying to stay in other European nations is far, far higher than in the UK. Last year, some 165,600 sought asylum in Germany, 129,000 in France and 118,000 in Spain.